Needless to introduce Thimphu is the capital of Bhutan, a scenic and culturally enriched region aligned at 2334 m. It's the government seat and home to iconic Buddhist sites, lying in western central Bhutan. Thimphu represents a stronghold of traditional architecture, culture, and Bhutanese art that attract global tourists. 
For tourists traveling by road, the best way to approach Thimphu is via the Jaigaon-Phutensholing route. You might explore a few locations in Bhutan after Thimphu exploration, such as Paro, Haa Valley, Punakha. Book resorts or hotels at Paro Bhutan, Thimphu, Bumthang, etc. at budget-friendly costs.
Let's talk about 5 top-notch places to visit in Bhutan:
1. Trashi Chho Dzong
Trashi Chho Dzong is an incredible Buddhist Monastery and fortress on the western bank of Wang Chu. This traditional Bhutanese Temple picturesquely lies on the northern edge of Thimphu, built by Lama Gyalwa Lhanangpa in 1216 A.D. Extremely picture-perfect location is Thimphu Dzong surrounded by a hilly backdrop, beautiful gardens, and well-maintained lawns.
2. National Memorial Chorten
The Memorial Stupa, also called Thimphu Chorten is a wonderful sacred site in the southern-central part of Thimphu. This is a large Chorten that holds a Tibetan-style design built in 1974. It's an important landmark of the city center of Thimphu, a widely visited monument by the locals for daily worship.
3. National Library of Bhutan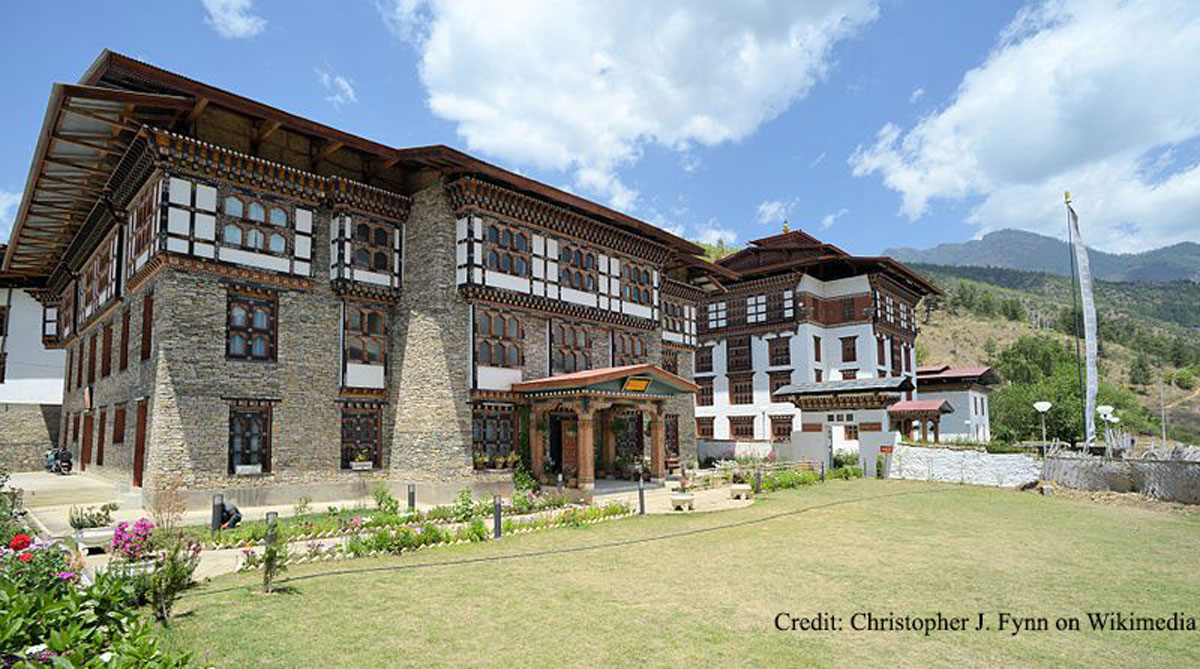 The National Library of Bhutan is beautifully sits in Thimphu and was built in 1967 for the preservation and promotional purpose of the rich religious and cultural eminence of Bhutan. It's in the northern end of Thimphu, featuring an extensive collection of Buddhist literary treasures. This library involves books belonging to Mahayana Buddhism. Many religious books, and manuscripts are there in this beautiful four-storeyed eight-corned traditional Bhutanese building.
4. Clock Tower Square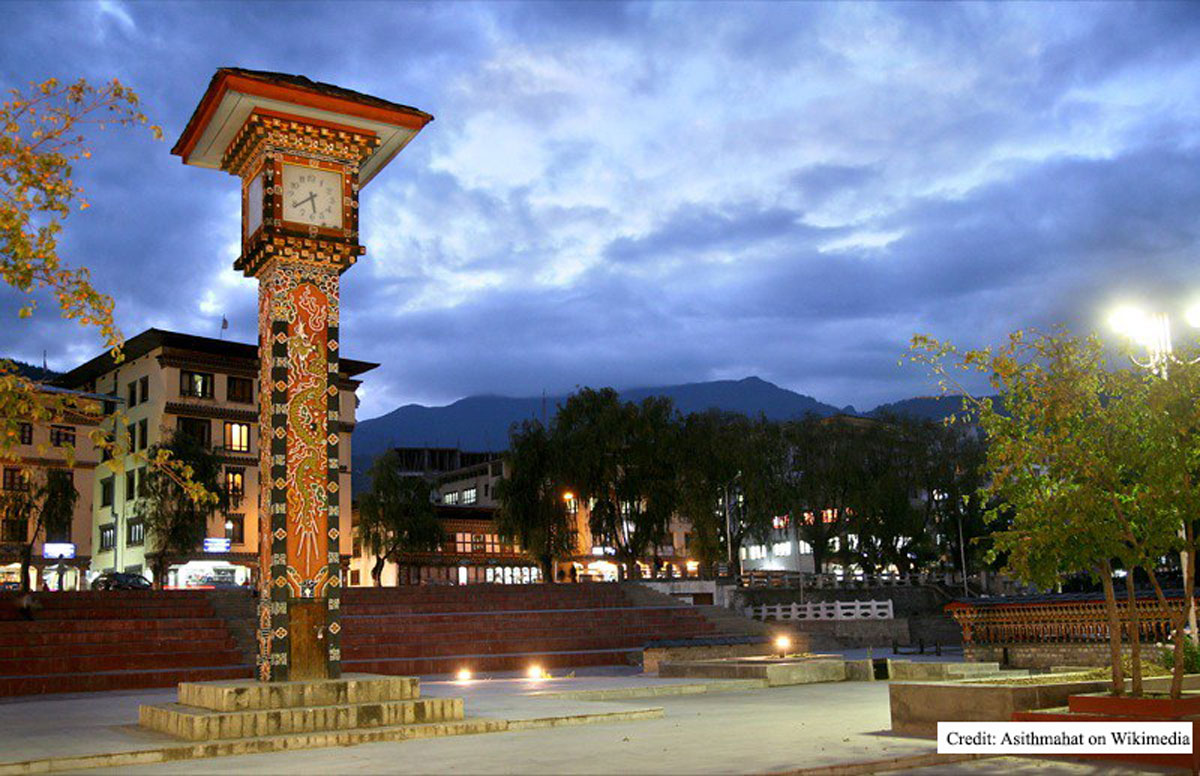 Clock Tower Square dwells in the heart of Thimphu Valley, a clock-faced tower. It consists of four clocks bounded by restaurants, café and shops, and hotels. The traditional dragon designed in the clock symbolizes Bhutan as an independent Dragon Kingdom. You might visit the sightseeing locations in Thimphu Valley there. Get quality hotels in Thimphu, Punakha, or hotels at Paro Bhutan.
5. Tango Goemba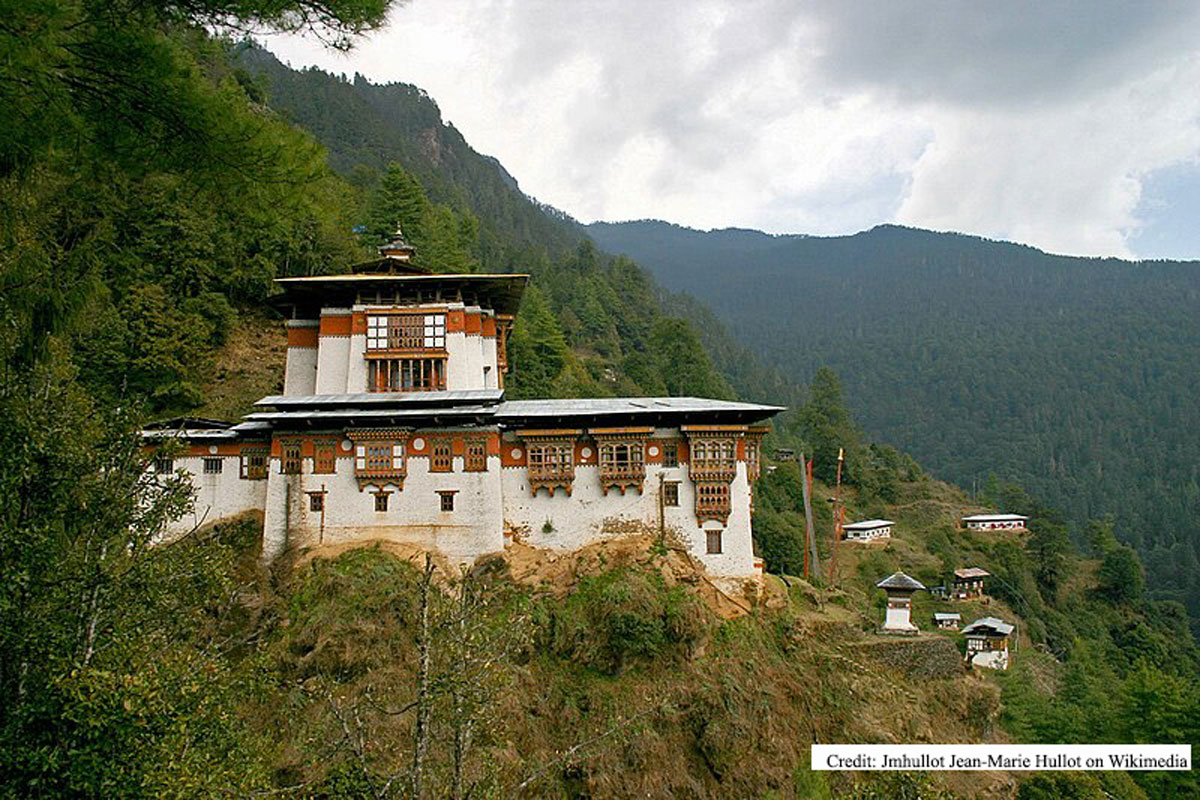 Tango Goemba or the Tango Monastery was founded by Phajo Drugom Zhigo in the 13th century. It nestles wonderfully on a south-facing cliffside at the north range of Thimphu Valley. Situated only 14 km to the north of Thimphu, near Cheri Mountain. This Buddhist Monastery is one of the highest Buddhist learning places in the Buddhist kingdom of Bhutan.
You can add more destinations to your package holiday or holiday list. Phuentsholing and Thimphu are some 4 hours apart. And Paro, a valley town, is nearly 1 hr 20 km away. Bhutan is an ideal location for family trips, trips with friends, honeymoons, spiritual tours, nature retreats, and thrilling ventures. Stay in comfy, cost-effective hotels in Bhutan. Turn your exploration awesome. 
---